Cartography Lecturer & Department Cartographer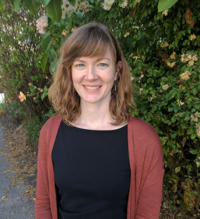 PH.D. UNIVERSITY OF CALIFORNIA, BERKELEY, 2014
515A McCone Hall
alicia@berkeley.edu
As the Staff Cartographer and Cartography Lecturer in the Geography Department, I design and edit maps and teach mapmaking methodology courses in the Cartography and GIS Education Lab (CAGE Lab). In my undergraduate course, Geography 183: Cartographic Representation, students not only learn technical skills for mapmaking, but they are also encouraged to think critically about maps, to explore design concepts for effective communication, and to understand the history and development of cartography and its purpose throughout human history.
My background in both the arts and sciences informs my teaching and my work as a cartographer. Prior to my current position, I taught physical geography courses at UC Berkeley and two local community colleges, worked as a cartographic technician with the National Park Service, and completed a PhD in Geography in 2014. My dissertation research focused on the historical ecology of central California, examining both long-term changes in climate and human impacts. Before I began my graduate studies, I worked for several years as a museum professional, drawing on my undergraduate education in art history and studio art.
I am also a board member of Guerrilla Cartography, a nonprofit dedicated to promoting the cartographic arts through collaborative projects and workshops. Our latest crowdsourced and crowdfunded atlas, Water: An Atlas, features over 80 maps about water created by scores of researchers and cartographers from around the world.