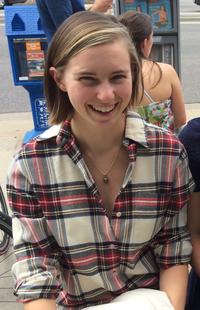 I use ethnographic, archival, and literary methods to study the American Southwest, Mexico, and the US-Mexico border. I am currently engaged in eighteen months of dissertation research with the deportee/returnee community in Mexico City. I also conducted pre-dissertation research about humanitarian responses to migrant death in South Texas. 
My additional interests include ecology, environmental and infrastructural history, feminist/queer geography, literature, art, and writing. 
Before coming to graduate school, I majored in Russian Literature, held a Fulbright fellowship to Kyrgyzstan researching changes to pasture law, worked in land use planning in California's Central Valley, and as a cattle ranch hand in New Mexico. I speak Spanish and Russian.
Publications:
(Accepted) Tracey, Caroline. "Enforcing Ecology: Geographies of the Cattle Fever Tick." Journal of the Southwest.
(Forthcoming December 2020) Tracey, Caroline. "Fértil Camposanto Llamado México: Contemporary Poetry of US-Mexico Border Deaths." Journal of Latino and Latin American Studies.
Tracey, Caroline. 2020. "Gentrification and Denver's Hispanic Past." In Michael J. Keables, ed. Denver and the Rocky Mountain West: A Compendium of Geographic Perspectives. Washington, DC: American Association of Geographers.
Non-academic publications at cetracey.com