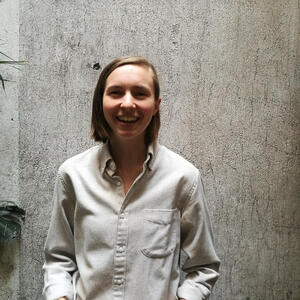 My research uses ethnographic, archival, and literary methods to study the American Southwest, Mexico, and the US-Mexico border. My dissertation, "Binational Politics from Intimate Scales: Women and Gender Non-Conforming Deportees and Return Migrants in Mexico City," responds to existing scholarship that has focused on deportation as a male phenomenon, and arguesthat while the majority of deportees and return migrants are indeed cisgender men, women and trans deportees and returnees carry out fundamental community-building and activism on the ground in Mexico that has improved emplacement over the long term for all return migrants. I have also conducted research about humanitarian responses to migrant death in collaboration with the South Texas Human Rights Center in Falfurrias, Texas. My research has been supported by the Wenner-Gren Foundation, Society for Women Geographers, Institute for Citizens and Scholars, and a Mellon/ACLS Dissertation Completion Fellowship. 
As a teacher, I focus on developing students' skills of careful reading, fluid and argument-driven writing, and confident speaking—tools that are fundamental no matter a student's course of study. I incorporate writing centrally into my geography classes, and reciprocally teach writing in a way that is informed by close observation of the world. I am prepared to teach topics such as Geography of North America/the American West, Chicanx/Latinx Geographies, Ethnographic Methods, and the US-Mexico border, as well as first-year composition and all levels of creative nonfiction. My syllabi take advantage of my wide-ranging background in literature, geography, and range ecology. They are designed to develop cross-disciplinary connections, and further to question disciplinary categories entirely.
Outside of my academic work, my reporting and essays appear in n+1, the Guardian, the Nation, SFMOMA's Open Space, the Kenyon Review online, and in Spanish in Nexos. I speak Spanish and Russian. 
In addition to migration, my interests include ecology, environmental and infrastructural history, feminist/queer geography, literature, art, and creative writing. 
Publications:
Tracey, Caroline. "The Instagram Counter-Archive: Guadalupe Rosales, Graciela Iturbide, and Chicana Representation across Borders." Burlington Contemporary 4.
Tracey, Caroline. "Enforcing Ecology: Geographies of the Cattle Fever Tick." Journal of the Southwest 62(4): 789-817. https://muse.jhu.edu/article/793198.
Tracey, Caroline. "Fértil Camposanto Llamado México: Contemporary Poetry of US-Mexico Border Deaths." Journal of Latino and Latin American Studies.
Tracey, Caroline. 2020. "Gentrification and Denver's Hispanic Past." In Michael J. Keables, ed. Denver and the Rocky Mountain West: A Compendium of Geographic Perspectives. Washington, DC: American Association of Geographers. http://www.aag.org/cs/publications/special/the_rocky_mountain_west.
Book Reviews:
Tracey, Caroline. Review: Alvarez, CJ. 2019. Border Land, Border Water: A History of Construction on the U.S.-Mexico Divide. Journal of Latin American Geography.
Tracey, Caroline. Review: Cuevas, T. Jackie. 2019. Post-Borderlandia: Chicana Culture and Gender Variant Critique. Studies in Twentieth and Twenty-First Century Literature 45(1), Article 21. https://doi.org/10.4148/2334-4415.2186
Non-academic publications at cetracey.com