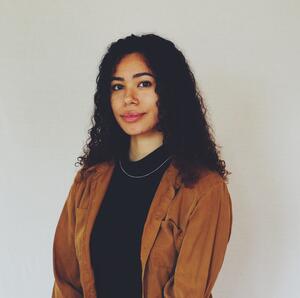 PhD Candidate | janehenderson@berkeley.edu
Research Interests 
Black geographies; Indigenous geographies; frontiers; racial capitalism; repair; US Midwest; historical geography; settler colonial studies; Caribbean studies
I am interested in Black geographies beyond the plantation. My work examines the historical and contemporary relationship of blackness to the frontier, in order to think through the place  of blackness in settler geographies and imaginaries. I ask questions about Black and Indigenous claims to space through my hometown of Minneapolis, Minnesota. 
My research is indebted to Black Caribbean thinkers and writers, whose work has pushed me toward entirely new questions and possibilities for Black life in the Americas. 
I am actively involved in the Berkeley Black Geographies project and The Black Midwest Initiative at the University of Minnesota.
My work is supported by the National Science Foundation Graduate Research Fellowship and the Eugene Cota Robles Fellowship.   
Education
B.A. Ethnic Studies & Spanish, University of San Diego 2017 (Ronald E. McNair Scholar) 
Publications 
Caroline Faria, Bisola Falola, Jane Henderson & Rebecca Maria Torres (2019) A Long Way to Go: Collective Paths to Racial Justice in Geography, The Professional Geographer, 71:2, 364-376,DOI: 10.1080/00330124.2018.1547977

Guel, A., Henderson, J., Pirog, R., Wimberg, T., & Kelly, R. (2017). An annotated bibliography on structural racism present in the U.S. food system (4th ed.). East Lansing, MI: Michigan State University Center for Regional Food Systems.

Singer, Alison & Gray, Steven & Sadler, Artina & Schmitt Olabisi, Laura & Metta, Kyle & Wallace, Renee & Lopez, Maria Claudia & Introne, Joshua & Gorman, Maddie & Henderson, Jane. (2017). Translating community narratives into semi-quantitative models to understand thedynamics of socio-environmental crises. Environmental Modelling & Software. 97. 46-55.10.1016/j.envsoft.2017.07.010.
Teaching Experience 
Graduate Student Instructor, The Southern Border, Fall 2018 
Guest Lecturer, Food and the Environment, Summer 2019
Reader, Race Space & Inequality, Spring 2018 & Spring 2019
Dissertation Committee
Jovan Lewis (Chair), Jake Kosek, Stephanie Jones-Rogers (History Department)