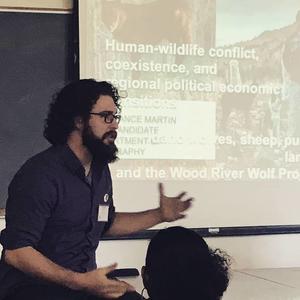 PHD CANDIDATE
BA, PEACE AND CONFLICT STUDIES (UC BERKELEY, 2008); MSC, ENVIRONMENTAL GOVERNANCE (UNIVERSITY OF MANCHESTER, 2011)
political ecology, political economy, human-wildlife conflict, evolution, ecology, dialectics
195 McCone
j.vance.martin@berkeley.edu 
Office hours: By appointment
BIO AND INTERESTS:
Jeff's research focuses on human-environment relations, particularly around questions of human-wildlife conflict and political economy. He is currently writing up his dissertation on conflict over gray wolf conservation and livestock predation in the Northern Rockies through the lens of political ecology and economic geography.
Jeff graduated from UC Berkeley's Peace and Conflict Studies department in 2008, completing an honors thesis on Arizona's Gila River Indian Community Water Settlement Act. He completed his MSc in Environmental Governance through the Geography department at the University of Manchester(2011), with a dissertation project on the Kew Gardens Millennium Seed Bank Project. Following his Master's, he worked in environmental compliance for the Department of Defense in Southern California.
In his free time, he pursues interests in artwork, fantasy worldbuilding and gaming, outdoor activities, and cooking.
GRADUATE STUDENT INSTRUCTION:
Worldings: Regions, Peoples, and States (Geog 10), Dr. Jake Kosek, Fall 2015
Food and the Environment (Geog 130), Dr. Nathan Sayre, Spring 2013 and Spring 2015
Economic Geography of the Industrial World (Geog 110), Dr. Sarah Knuth, Fall 2013; Dr. John Stehlin, Fall 2016, 2017
Justice, Nature, and the Geographies of Identity (Geog 31), Dr. Jake Kosek, Fall 2012
CONTACT INFORMATION: