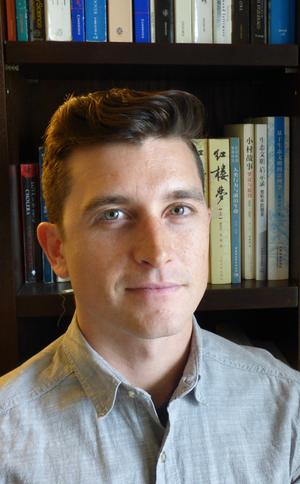 PH.D. CANDIDATE; M.A. ASIAN STUDIES, UNIVERSITY OF OREGON 2013; B.A. PHILOSOPHY, UNIVERSITY OF NOTRE DAME 2006 
Urban Political Ecology, Development, Environmental Geography, Human-Nature Relations, China
189 McCone
rodenbiker@berkeley.edu 
Office hours: Wednesdays 2-3 p.m. (Fall 2017)
Research 
Jesse researches the cultural production of ecological modernity, peri-urban environmental governance, rural-urban political economic and socio-spatial transitions in China. His work explores how ecological sciences shape the cultural politics of nature and development, as well as the transitional reconfigurations of rural-urban spaces and livelihoods through sites of ecological protection zoning across Southwest China's Yunnan and Sichuan Provinces.
His research is supported by the Fulbright-Hays DDRA Program, the Chiang-Ching Kuo Foundation For International Scholarly Exchange, the Social Science Research Council, Global Metropolitan Studies, the Institute for International Studies, the Confucius China Studies Program, the IEAS Center for Chinese Studies, and Foreign Language and Area Studies Fellowships.
Biography and Interests
Jesse holds a B.A. in philosophy and a M.A. in Asian Studies. He has worked in China and Thailand in journalism and with a number of NGOs. He has also worked with the Sustainable Cities Initiative China program and he served as the Liaison for the Institute of East Asian Studies' Center for Chinese Studies. From 2016-2017, he was a Visiting Scholar at Sichuan University's School of Public Administration. His research was recently featured in the Social Science Matrix.
He enjoys surfing, climbing and artwork with his daughter.
Publications
Superscribing Sustainability: The Production of China's Urban Waterscapes. UPLanD-Journal of Urban Planning, Landscape & Environmental Design 2.3 (2017): 71-86.
迈向解放的人类世:气候变化与你的选择. 《人与自然》11月2015
Towards an Emancipatory Anthropocene: Climate Change and Everyday Life. Human and Nature, November, 2015
全球化的克什克腾:打造世界地质公园的空间特殊性. 《人与自然》9月 2015
Globalizing Heshigtan: The Spatial Anomalies of Making a Global Geopark. Human and Nature, September, 2015
Green Energy Development: Stronger With Age, Translated Chapter in Huigui, 《回归》 by Wu Xijiu, (Forthcoming)
Courses Taught as Graduate Student Instructor
GEOG 10: Worldings: Regions, People, and States. Jake Kosek (Fall 2017)
GEOG 164: The Geography of Chinese Economic Development. You-tien Hsing (Spring 2015)
DS-10/GEOG 32: Introduction to Development Studies: Poverty, Human Development, and Globalization. Michael Watts (Fall 2014)
HIST 192 Japan: Past and Present. Jeffrey Hanes Spring (Spring 2013)
HIST 191 China: Past and Present. Ernst Schwintzer (Winter 2013)
HIST 190: Foundations of East Asian Civilization. Andrew Goble (Fall 2012)