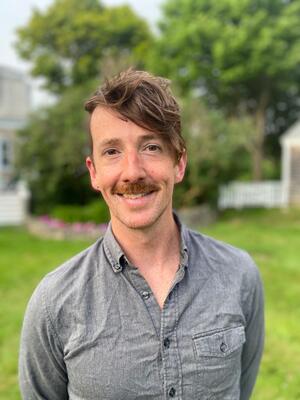 Michael Polson is an Associate Project Scientist at UC Berkeley, with dual appointments in the Departments of Geography and Environmental Science, Policy & Management. Trained as an anthropologist at City University of New York - Graduate Center under the guidance of the late Dr. Leith Mullings, Dr. Polson is currently working on two research projects funded by the State of California. The first, with PI Nathan Sayre and Co-PI Ann Laudati, explores the effects of cannabis legalization on unregulated cannabis markets in California. The second, with PI Christy Getz and PhD Candidate Margiana Petersen-Rockney, analyzes the causes and effects of bans on cannabis cultivation.These projects are the latest in over a decade of research on the political economy of cannabis during a period of massive policy upheaval.
Dr. Polson's scholarship explores the possibilities, contradictions, and limits of liberal governance in capitalist societies. This focus suffuses his work on the contentious induction of illegalized cannabis agriculture into formal systems of order-making (e.g. environmental, medical, agrarian, legal, socio-racial, economic). While legalization discourses celebrate "emerging" cannabis markets and potential state revenues, his work illuminates the liberating potential of legalization, not only from drug wars and criminalizing repression but from entrenched social patterns around agriculture, rural development, governance and medicine. His work explores how cannabis producers are remade and remake the worlds around them. In so doing, they push at the limits of liberal policymaking in its encounters with society's feral, weedy zones. His current book project, entitled Weed(s): Cannabis, Producers and the Feral Agrarian and under advanced contract with the University of Minnesota Press,explore these matters.

Dr. Polson's work has been funded by the NSF, NIH, Wenner-Gren Foundation, Resource Legacy Fund, UC Berkeley's Ciriacy-Wantrup Fellowship, CUNY, Horowitz Foundation for Social Policy, and the State of California. His work is published in the fields of anthropology, fields of geography, political economy, environmental studies, agriculture, history and planning. At Berkeley, he co-founded the Cannabis Research Center, an interdisciplinary grouping of scholars investigating cannabis and matters of livelihoods, communities, and ecologies. He has taught at undergraduate and graduate levels at CUNY's Brooklyn College, Baruch College, and School of Professional Studies as well as American University and Davidson College. 
Dr. Polson can be reached at mpolson@berkeley.edu
Publications
2021  The Prohibited Commons: Cannabis and Alternatives for Legalization. Polson M & Bodwitch H. Submission to Elementa: Science of the Anthropocene. Special Issue: Commoning in Rural North America. 9(1): 00054.
2021  Cultivating Cannabis, Excepting Cannabis. The War on Drugs: A History. Farber D, Ed. New York: New York University Press. 92-128.
2021  Why Comply? Farmer Motivations and Barriers in Cannabis Agriculture. H Bodwitch, M Polson, E Biber, G Hickey, V Butsic. Journal of Rural Studies. 86. 155-170.
2021  Legalization and Prohibition: Breaks, Continuities, and the Shifting Terms of Racial-Capitalist Governance. Routledge Handbook of Interdisciplinary Cannabis Research. Eds. Meisel J & Corva D. Routledge.
2021  Industrializing Cannabis? Socio-Ecological Implications of Legalization and Regulation in California. Dillis C, Polson M, Bodwitch H, Carah J, Carlson S, Power M, Sayre N. Routledge Handbook of Interdisciplinary Cannabis Research. Eds. Meisel J & Corva D.  Routledge.
2021   Shifting Geographies of Legal Cannabis Production in California. C Dillis, H Bodwitch, E Biber, V Bustic, J Carah, P Parker-Shames, M Polson, T Grantham. Land Use Policy. 105. 1-11.
2020  Buttressed and Breached: The Exurban Fortress, Cannabis Activism and the Drug War's Shifting Political Geography. Environment and Planning D: Society and Space. 38(4): 626-645.
2019  Making Marijuana an Environmental Issue: Prohibition, Pollution, and Policy. Environment and Planning E: Nature and Space. 2(2). pp.229-251.
2019  Outlaw. Journal for the Anthropology of North America. Special Issue: Rural Almanac. 22(2): 128-130.
2019  Cannabis Farmers or Criminals? Enforcement-First Approaches Fuel Disparity and Hinders Regulation. M Polson & M Petersen-Rockney. California Agriculture. Special Issue: Cannabis Production. 73(3): 185-193.
2018  Marketing Marijuana: Prohibition, Medicalisation and the Commodity. Economy, Crime and Wrong in a Neoliberal Era. J Carrier, Ed. European Association of Social Anthropologists Series. New York: Berghahn Books. pp.140-171.
2017  Prohibition and Planning: Marijuana, Development and the Upheaval of Governance in Rural California. The Illicit and Illegal in Regional and Urban Governance and Development: Corrupt Places. Francesco Chiodelli, Tim Hall, & Ray Hudson, Eds. Regions and Cities Series of Regional Studies Association. New York: Routledge. pp.141-162.
2015  From Outlaw to Citizen: Police Power, Property, and the Territorial Politics of Medical Marijuana in California's Exurbs. Territory, Politics, Governance. Special Issue: Illegal Geographies. 3(4). pp.387-406.
2013   Land and Law in Marijuana Country: Clean Capital, Dirty Money, and the Drug War's Rentier Nexus. PoLAR: Political and Legal Anthropology Review. Special Issue: Illegal Anthropology 36(2). pp.215-230.