Geography Lecturer Seth Lunine (and Geography alum, PhD 2013) is one of this year's recipients of the 2020 American Cultures Excellence in Teaching Award.
2020 AC Prizes Virtual Ceremony
2020 AC Excellence in Teaching Award
---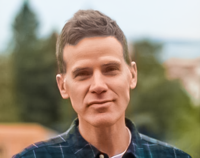 Seth Lunine
Dr. Seth Lunine has taught two American Cultures courses since 2015, Geography 50AC, California (offered by both the Geography Department and the Fall Program for Freshmen) and Geography 70AC, The Urban Experience: Race, Class, and the American City.  Seth's courses enable students to participate in spaces of visibility, vulnerability, and connection that mirror and mold critical thinking and other scholarly engagement within the AC curriculum.
Seth's courses incorporate community-engagement and creative assignment design through his participation in the American Cultures Engaged Scholarship (ACES) Program and Creative Discovery Fellows Program.Through his participation in these programs and by way of his deep commitment to the social issues in his course, Seth has collaborated with community organizations to design and implement projects such as the Tenderloin Neighborhood Development Corporation, the AntiEviction Mapping Project, and, in Spring 2020, he partnered with six community partners to address housing insecurity, particularly among UC Berkeley students.  Students in Seth's AC courses designed and produced "deliverables"—a resource guide for low-income Tenderloin residents, story art for the UC Berkeley Basic Needs Center, infographics on tenants rights and "just evictions," community organizing posters written in Cantonese, English, and Spanish—that embodied not only original research and substantive analysis but also meaningful interventions in real-world social and economic justice issues.