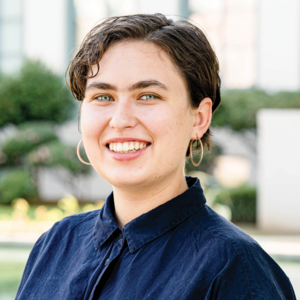 Geography senior, Noelani Fixler, has been awarded the WTS Molitoris Leadership Scholarship. The purpose of the scholarship is to motivate and reward women who demonstrate leadership in the transportation industry, ensuring that the essential leadership skills and perspectives of women are included in planning the transportation systems of the future. In addition to a $5,000 scholarship, Noelani has been invited to attend the 2023 WTS International Annual Conference in Atlanta and will be honored during the Gala & Awards Dinner.
A bit about Noelani: Last Spring, Noelani began an internship with the UC Berkeley Parking and Transportation department, where she leads the campus Mobility and Equity Committee. This committee is a perfect blend of her two passions: advocacy and public transportation. Through this internship, Noelani helped manage the AC Transit EasyPass program, which provides low-cost bus passes to UC Berkeley students, and the BART/MTC BayPass pilot program, designed to better understand how Berkeley students travel and allowing them access to all bus, rail, and ferry services. In addition to her internship, Noelani was appointed commissioner to the Transportation and Infrastructure Commission in Berkeley last Fall. In this position, she is able to champion projects she is genuinely passionate about: improving pedestrian safety, micro-mobility, and public transportation.
Congrats on this well-deserved award, Noelani!