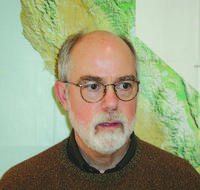 PROFESSOR EMERITUS (GEOGRAPHY AND ARCHITECTURE)
PH.D. UNIVERSITY OF CALIFORNIA, BERKELEY, 1983
Urban life and urban form, cultural landscape studies, the United States, the history of ordinary urban architecture
My overarching interest is in cultural landscape studies—that is, the history, form, and meaning of ordinary built environments, particularly in the United States. This work bridges cultural geography, historical geography, urban geography, and some aspects of physical geography, along with social and cultural history. I study the ways in which social groups have used space (as buildings, rooms, street grids, fields, or yards) to articulate social relations, to derive cultural meaning, and to create social change. Although my research has looked primarily at center cities, my teaching and thinking also look avidly at rural and suburban settings. I grew up in rural North Dakota, and have systematically explored most of North America. Although it is unfashionable, I think regions can still be important rubrics for studying human culture and history.
I started my academic life with a professional degree in architecture, and the geographical analysis of building types remains an important focus of my research. I am currently working on a book about the cultural interrelationships between workers' houses, work places, and recreation sites in West Oakland, California. I have also studied the landscapes of socially and politically disenfranchised people in settings such as Native American reservations and single-room housing. My book about residential hotels uses the geographical evidence of ordinary urban architecture to fill an important but often ignored aspect of American urban history. My methods might best be called "purposely eclectic." As a former student of Allan Pred, Richard Walker, Peirce Lewis, J. B. Jackson, and James Vance, I look for ways in which social theory can be used to illuminate cultural landscape questions, although my work usually starts with what I can see and works back to theory and social processes that may not be visible.
SELECTED PUBLICATIONS
Everyday America: Cultural Landscape Studies after J. B. Jackson, co-edited with Chris Wilson (Berkeley: University of California Press, 2003)
Understanding Ordinary Landscapes, co-edited with Todd Bressi (New Haven: Yale University Press, 1997)
Living Downtown: The History of Residential Hotels in the United States(Berkeley: University of California Press, 1994; paperback edition, 1998; electronic edition, netLibrary, 2001)
"Guidebooks as Community Service," Association of Pacific Coast Geographers Yearbook 62 (2000): 11-25.
"Making New Connections in Vernacular Architecture," Journal of the Society of Architectural Historians, 58:3 (1999): 444-451.
"J. B. Jackson and Geography," The Geographical Review 88:4 (1998): iii-vi.
"Workers Houses in West Oakland," co-authored with Marta Gutman, in Suzanne Stewart and Mary Praetzellis, eds., Sights and Sounds: Essays in Celebration of West Oakland (California Department of Transportation with the Anthropological Studies Center, Sonoma State University, 1997): 31-84
"San Francisco's Third and Howard Streets: Skid Row and the Limits of Architecture," in Diane Favro, Zeynip Celik, and Richard Ingersoll, eds., Streets of the World: Critical Perspectives on Public Space (Berkeley: University of California Press, 1994): 23-34.