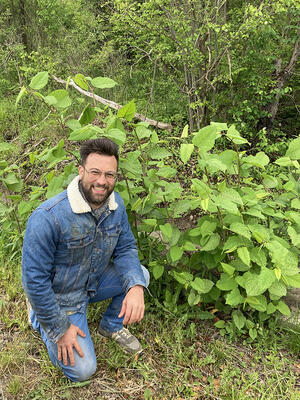 PhD Candidate, Geography with a Designated Emphasis in Critical Theory
I have become enthralled by the different stories that plants are capable of telling. I believe there is something unshakably right in what Edgar Anderson said in the early 1950's: "the history of weeds is the history of man." In being in the "wrong" place or somehow in an inappropriate context, weeds tell us about landscape and ecological science but also about history, aesthetics, epistemology, and even ethics. 
I have become particularly fascinated with a weed called Japanese knotweed and its inexorable spread across postindustrial Europe and North America. The presence of this ruderal plant in urban wastelands, along creek and canal sides, in road margins, and along rail tracks opens us to stories about the history of Western empire in the Far East, about the epistemology of taxonomy, the transformation of complex ecologies into capitalist infrastructure, the racialized fear of invasion, settler colonialism, hysteria about property value, how ecology orders the world, the history of medicine, and so much more. 
I use the methods of urban political ecology and the environmental humanities to orient my work, but at the methodological and theoretical heart of my work is an attempt to reconstruct Theodor Adorno's idea of natural history and to read WG Sebald's Rings of Saturn as a method for interpreting landscape. By extending a non-identical and embodied hermeneutic to the study of landscape, I look to trouble the way we interpret our everyday landscapes and, thus, environmental crisis, invasive species, urban ecology, resilience, and economic development in the Anthropocene.