PhD Candidate in Human Geography
he/him/his
e: robert_moeller@berkeley.edu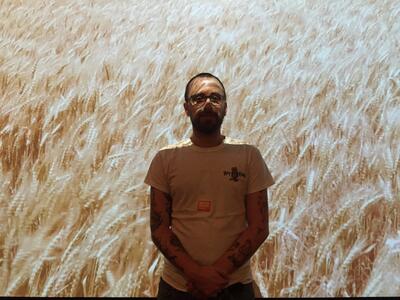 Research Interests
Black Geographies, Cultural Studies, Critical Race and Ethnic Studies, American Studies, Sacramento Valley, Racial Capitalism, Affect, Memory, Infrastructure, Food Studies
Robert Moeller interrogates racial capitalist political economy and racialization in the Sacramento River Basin of Northern California, United States (Nisenan Maidu and Plains Miwok Territory). Specifically, he engages in multiscalar analysis of how hydrological infrastructure and the commodification and preservation of agricultural production establish settler colonial temporalities of white futurity, undergirded by racialized fear and promise, with special attention to these structures' historical antecedents in the Atlantic plantocracy and their export into U.S. imperial endeavors in the Pacific. As the constitutive foil for this process, he analyzes how migratory and displaced laboring populations demonized by these formations offer alternate societal imaginaries through their material and poetic interventions throughout the landscape of the Sacramento Valley.
Education
MA in Cultural Studies, University of California, Davis
MS in Library and Information Science, Pratt Institute
BA in American Studies, College of William and Mary
Publications
Gabi Kirk and Robert Moeller, "Campus 'Tours of Duty': Unsettling Everyday Militarisms Through Walking," Historical Geography 48 (2020): 40-74.