Research Interests: Urban Geography, Critical GIS, Science and Technology Studies, Digital Humanities, Food Studies, Gentrification, Urban Studies
Ph.D. Candidate, UC Berkeley, Geography (with Designated Emphasis in New Media)

A.B., Harvard College, History and Literature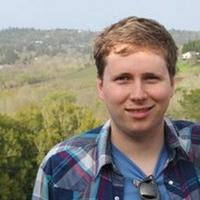 I am currently researching the impact of location services (both contemporary digital technologies and their analogue predecessors) on the way that people experience cities, and their role in the rapid transformation of urban neighborhoods and housing markets across the Global North since the 1980s, with a focus on the San Francisco Bay Area and New York City.
I am a Graduate Certificate student in the Global Urban Humanities (and a member of the initiative's Student Advisory Board) and a member of the Designated Emphasis program in New Media through the Berkeley Center for New Media, where I also currently co-chair the New Media Working Group. I was the 2017-2018 Equity and Inclusion Foodscape Mapping Fellow through the UC Global Food Initiative and the Berkeley Food Institute, and have been selected as a Global Urban Humanities-Townsend Fellow for 2019.
I have presented my research at meetings of the North American Cartographic Information Society (NACIS), the Graduate Association of Food Studies, the Leverhulme Trust-supported "From Prizes to Prices and Vice Versa" conference at the University of Bologna, and the annual meetings of the American Association of Geographers (AAG). I am a member of the following AAG working groups: Digital Geographies (where I currently serve as Student Board Member), Urban Geography, Geographies of Food & Agriculture, Geographic Information Science & Systems, and Socialist & Critical Geography.
I am co-organizing a paper session on "Political Economies of Geolocation" with Dr. Agnieszka Leszczynski (Western University) for the 2019 AAG annual meeting in Washington, D.C., accepting abstracts until October 20th, 2018.
Selected publications:
Thatcher, Jim, Luke Bergmann, Britta Ricker, Reuben Rose-Redwood, David O'Sullivan, Trevor J. Barnes, Luke R. Barnesmoore et al. "Revisiting Critical GIS." Environment and Planning A: Economy and Space 48, no. 5 (2016): 815-824.
Payne, Will and John Elrick. "Model City: Rule of Innovation." 2015. Essay accompanying Robby Herbst's New New Games exhibit, Southern Exposure Gallery, San Francisco, CA.