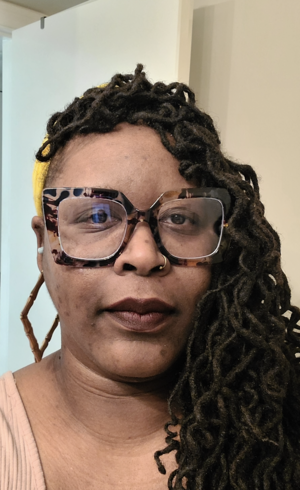 "we had a where and a when before we had race. " -me
phd student 
i am a proud third generation Black chicagoan and former music journalist whose research is about Black scale—a cross-sensory encounter between Blackness, music, sound, and locationality—that centers the scalar politics of Blackness and operationalizes scale to critique the (il)"logics" of racial capitalism and its inner-workings within african diasporic communities. my theoretical, conceptual, and methodological framework blends Black poetics and political economy through geomusicological and geosonicological approaches. therefore, i think through (g)eographical, (m)usical, and (s)onic scales to explore how the sociogeographic (re)structuring and territorialization of Black music, sound, and popular culture, urban to suburban migration, city-region formations, and urban-regional political economy shaped Blackness and Black identity into contested scales in post-civil rights Black chicagoland. 
education
ab       mount holyoke college
            Black geographies, summa cum laude, phi beta kappa (2018)
            high honors thesis: still sweatin': mapping house and Black bodies: place-making in the Black house music and cultural community of chicago
ags     harold washington college
             associate in general studies, honors (2015)  
research interests
chicago metropolitan area • Black chicagoaspora • Black geographies • (m)usical, (s)onic, and (g)eographical scales • time|temporalities • geo-ethnography • Black geomusicologies|geosonicologies • Black generational geographies • urban-regional political economy • racial capitalism• city-region formations• urban to suburban migration• Black womanist/feminist thought • afro-caribbean thought • Black cultural studies • Black sound studies• Black "soundwalking"
publications
"Black scale: constructing haunted overpasses as relational methodologies" with robert moeller (under review)
conferences and invited presentations
"mapping Black digital footprints of virtual care and sonic wellness: nostalgic connectivities across verzuz and Black twitter during the covid-19 pandemic." from social networking to community interventions: music's role in health and wellbeing during the covid-19 pandemic. sponsored by the special interest group for medical ethnomusicology, society of ethnomusicology conference, atlanta (2021)
"Black scale: methodologies of emplacing the intersection" with robert moeller. feminist research methods and intersectionality i & ii,  american association of geographers,seattle (2021) 
"still sweatin': spatializing intersectional identities and place-branding within the Black house music and cultural community in chicago" engaged scholarship and social justice undergraduate research conference, harvard college (2018)    
"still sweatin': spatializing intersectional identities and place-branding within the Black house music and cultural community in chicago" space, place, and music: new research in the study of geography and music, american association of geographers conference, new orleans (2018)     
Black matters are spatial matters panel, american association of geographers conference, new orleans (2018)
teaching and research assistantships 
mount holyoke college, graduate teaching and research consultant (dr. preston h. smith ii)
africana studies/politics: Black metropolis: from mlk to obama (fall 2020) 
the university of california, berkeley, graduate student researcher (dr. jovan scott lewis)
forthcoming project concerned with the structural and infrastructural frictions of poverty in tulsa, oklahoma (june 2020-march 2021)
the university of california, berkeley, graduate student reader (dr. jovan scott lewis)
race, space, and inequality (spring 2020)
mount holyoke college, teaching and research assistant (dr. preston h. smith ii)
africana studies/politics: Black metropolis: from mlk to obama (2015-2019)
select awards, grants, fellowships 
the university of california, berkeley
Black studies collaboratory small grants program (2022) with roderick e. jackson. project title: developing Black visuethics: the Black eye, subjective intimacies, and the geographies of ocularization in chicago
department of geography summer grant (2021)
mentored research fellowship with dr. nathan sayre  (2021-2022)
department of geography summer grant (2020)
chancellor's fellowship for graduate study (2019-present)        
mount holyoke college 
mary lyon scholar (2018)                                                                                                           
phi beta kappa prize winner (2018)                                                                                           
william randolph hearst foundation scholar (2015-2018)
geography senior fieldwork fellowship award (2017, 2018)                                                    
africana studies fellowship award (2018)                                                                                  
frances perkins scholarship (2015-2018)                                                                                        
advisors