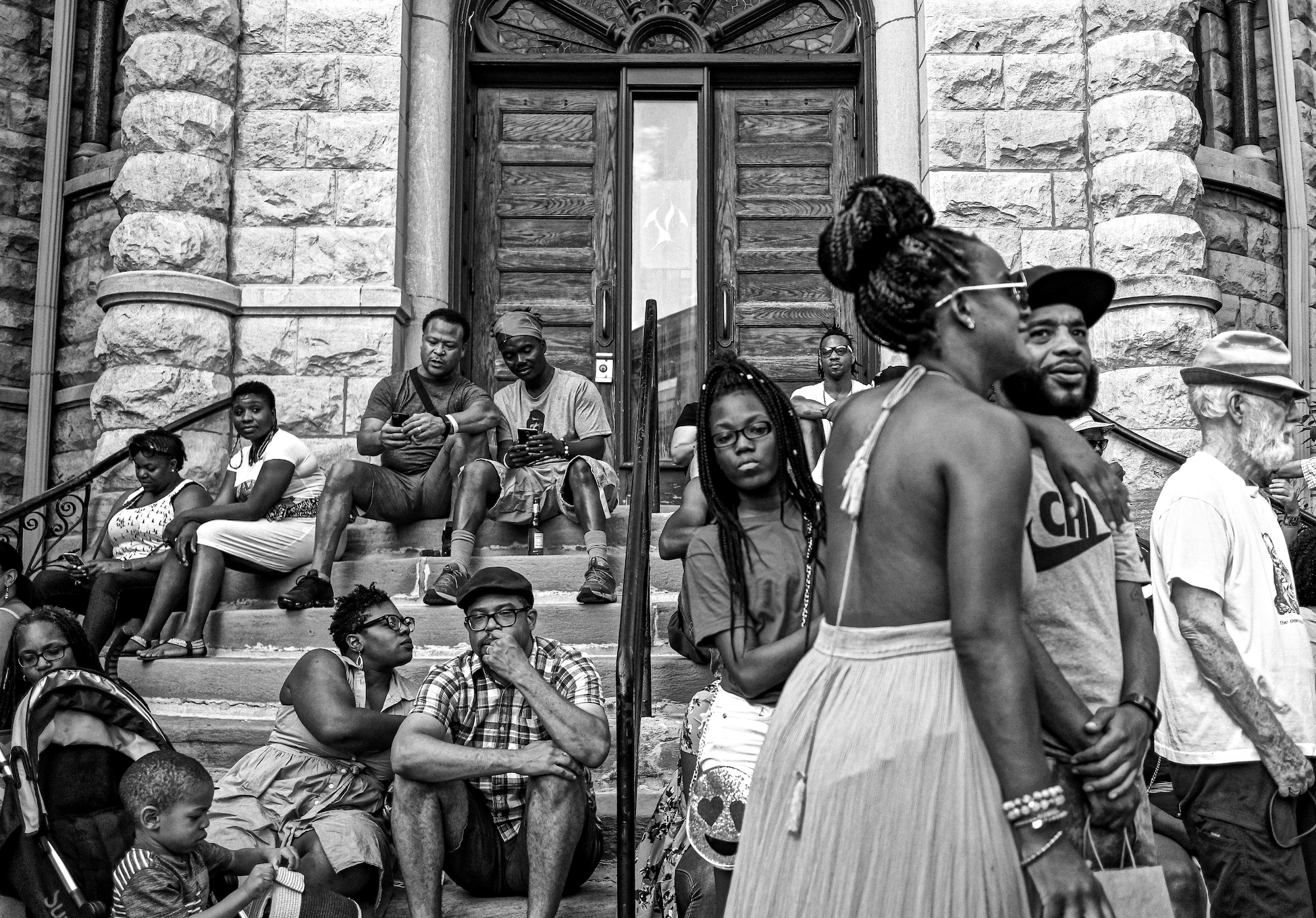 "The biggest secret in Chicago is that Chicago was founded by a Black man." –Lerone Bennett Jr. 
Inspired by Black life across Chicagoland, "Black chicagoland is…" emerges as a multi-sensory installation conceived by Roderick E. Jackson and april l. graham-jackson. "Black chicagoland is…" brings together richly textured photography, the music and sounds of Black Chicagoland, and inner musings from Black Chicagoans to thicken how we understand Black Chicagoness within and beyond the city's iconic South Side. The exhibit includes Still Sweatin,' a curated room highlighting the placemaking practices of the Black House Music and Cultural Community of Chicago, and how they use house music, culture, and sound to claim space across Chicagoland.  The exhibit's opening reception will feature Duane E. Powell, legendary DJ and Black House Kid, spinning Chicago house music on August 30th from 5:00PM-7:00PM.  Presented by the Black Studies Collaboratory and the Department of Art Practice at UC Berkeley, "Black chicagoland is…", runs August 30-September 21, 2023 at the Worth Ryder Art Gallery at UC Berkeley.
Roderick E. Jackson, PhD student in the African American Studies Department and april l. graham-jackson, PhD candidate and Berkeley Black Geographies Fellow, have reimagined Black Chicago as Black Chicagoland to draw our attention to the places that are often hidden beneath the surface, the forgotten suburbs and towns hugging Chicago's periphery, and spaces on the fringes where Black Chicagoness is and has always been present in all of its truths, contradictions, and expressions. The Jacksons invite us to engage Black life across this geography through its mythologized but often erased racial histories, deep cultural innovations, Black placemaking practices, and the shifting spatial boundaries that insist that there is more to be learned of what Richard Wright called "the known city." Through years of listening, visualizing, mapping, and dreaming of Black Chicagoland, the Jacksons offer an evocative portrait of a distinct place and its people by peeling back the layers of a deeply historied Black geography that is familiar and still yet to be discovered. 
"Black chicagoland is…" is curated by Dr. Leigh Raiford, Professor of African Diaspora Studies and Co-Director of the Black Studies Collaboratory at UC Berkeley in collaboration with Roderick E. Jackson and april l. graham-jackson. This exhibition was initiated by Greg Niemeyer, Professor of Art Practice at UC Berkeley, and has received intellectual and financial support from the Black Studies Collaboratory, the Department of Art Practice, and Berkeley Black Geographies housed in the Department of Geography at UC Berkeley, and the Black Midwest Initiative. 
The Worth Ryder Art Gallery is located in Room 116 of the Anthropology and Art Practice Building at UC Berkeley and open M, T, Th, Fri: 12:00PM-5:00PM, Wed: 1:00PM-7:00PM, and Sat: 12:00PM pm-3:00PM. You can find out more about the gallery at art.berkeley.edu/gallery. For more information, please visit Blackchicagoland.com and blackstudiescollab.berkeley.edu. 
Photo Credit: Roderick E. Jackson, Homecoming, Vinyl Banner, 72×48", 2017